Welcome to Davie Dosa Company
Welcome to Davie Dosa Company, the first restaurant showcasing Dosas, a unique South Indian specialty, in the heart of downtown Vancouver Davie Village.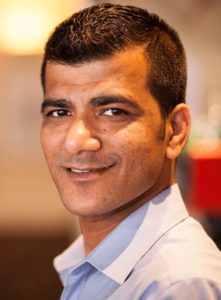 Davie Dosa Company brings an exotic culinary experience of traditional Southern Indian cuisine and delicious cocktails to a vibrant neighbourhood.
We bring our craft to your plate with unearthing traditional recipes and mastered cooking skills.
We created a menu for everyone – vegetarian, vegan, gluten and nut intolerant, and other food allergies – with traditional and creative recipes that pair wonderfully with our selection of wines and fine spirits.
All our Dosas and curries are 100% gluten-free and nut-free.
Please notify your friendly server if you have any food allergy or intolerance before you order. We do our best to accommodate all dietary requests.
We invite you to join us in this journey where the past and present come together and transport you to a world where colours, flavours and aromas come alive.

We are a proud member of the West End Business Improvement Association.
Want to know more about us?
We were recently featured in several magazines and websites:
You can also learn more about us on our Youtube channel.
What is a dosa?
One of our customers loved Dosa so much he wrote a full article about Dosa called What is a dosa?
RESERVATIONS
With OpenTable, you can easily book a table from the comfort of your fingertips.
TAKE OUT
In a rush? Grab some delicious food on your way home.
DELIVERY
Fancy some Southern Indian cuisine delivered right to your door? Not a problem, check our delivery partners below: