You've more than likely visited an Indian restaurant before, but have you eaten South Indian food specifically? Have you always wanted to visit us at Davie Dosa Company, but need just one more reason to? Let's have a look at all the ways we're different from what you might have sampled of Indian cuisine in the past…
We're healthier
You might think that going out for a delicious Indian meal isn't the healthiest option, and sure, everything in moderation is probably the best way to live. But what if we told you that South Indian food is some of the healthiest on offer? You'd better believe it!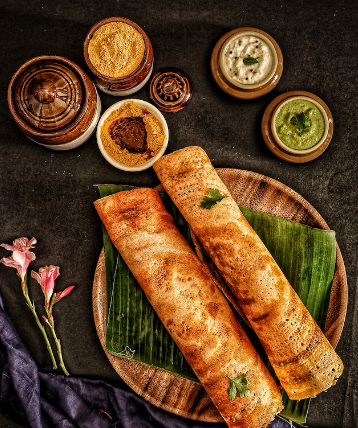 There are a few reasons for this, but let's start by talking about fermented foods. This study, published in the National Library of Medicine, not only describes fermented foods as "an important part of the diet in many cultures", but as having numerous benefits, like "anti-oxidant, anti-microbial, anti-fungal, anti-inflammatory, anti-diabetic and anti-atherosclerotic activity." Essentially, fermented foods are good for you in many different ways. The even better news is that South Indian cuisine – and that includes the delicious food we serve at Davie Dosa Company – consists of many fermented foods.
Not only that, but South Indian food is generally high in protein, packed full of antioxidants, probiotics and vitamins, and is easy on the digestive system too.
All the more reason to come and visit us and try our food today!
We use more spices
Some dishes from other parts of India rely on fats like butter or ghee (clarified butter) to taste rich and delicious, but that's not the case in South Indian cuisine. We use a huge variety of spices to flavour our food, meaning it not only tastes great, but it's ultimately better for you.
Some spices used in South Indian cooking and their health benefits include:
Tamarind – a source of antioxidants, has liver protective properties, is naturally antimicrobial (kills bacteria), and reduces the risk of atherosclerosis (the build-up of fatty deposits in your arteries)
Ginger – treats nausea, is anti-inflammatory, can improve chronic indigestion and may help lower cholesterol
Cinnamon – packed with antioxidants, can be anti-inflammatory, has been linked to reducing the risk of heart disease, and helps to lower blood sugar levels
Nutmeg – can help relieve pain, aid digestion, reduce insomnia, improve skin health and blood circulation
Cardamom – can help lower blood pressure, has anti-inflammatory compounds, can improve oral health and hygiene, and help treat infections
Curry leaf – has anti-inflammatory properties, and may help fight bacteria and infection
As with most ingredients, it's best not to exceed the daily recommended limits of those listed above.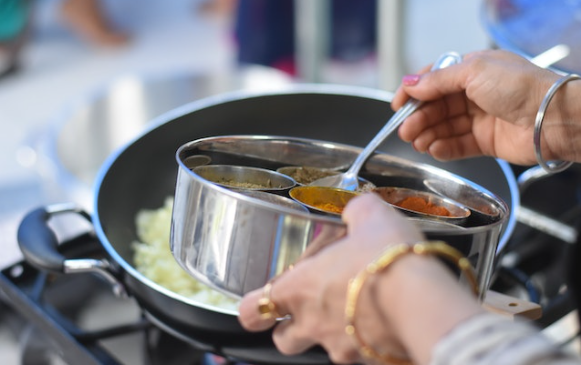 South Indian food is often spicier than food from other parts of the country, but don't worry if you're not a spice fan! We can easily tailor your food to your preferences, meaning it'll be served just the way you like it.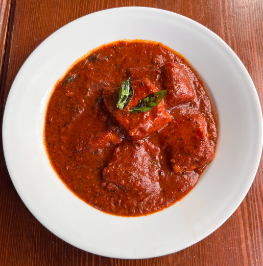 We use more fruit and vegetables, beans and rice
The climate in South India is one of the warmest in the country, with an annual average temperature of 33 degrees Celsius. Because of this lovely warm weather, we're able to grow an abundance of fruits, vegetables, grains and pulses, which all work together to make our food as delicious as it is.
We also have access to a wonderful range of fish and other seafood, so a lot of our dishes feature these ingredients. When you visit us here at Davie Dosa Company, we offer such delights as fish pakoras and prawn curries, and you can even create your own dosas, using fish, prawns and more as add-ons.
We have dishes you've never heard of
We're willing to bet you've probably heard of chicken tikka masala and butter chicken (even if rumour has it that chicken tikka masala was actually invented in the UK, but that's a story for another day…) and those are great, but we have much more to offer than the dishes you've heard of before.
For starters, there are our delectable dosas. You can click here to read more about them, but just know that they are crispy and flavoursome and can be served with just about anything.
Another dish you absolutely have to try at Davie Dosa Company? An idli. Similar to dosas in that they're made from fermented rice and lentil batter, idlis are steamed cakes that can either be eaten on their own as a delightful little snack or with chutneys or sambar, which is a spicy stew made with lentils and vegetables.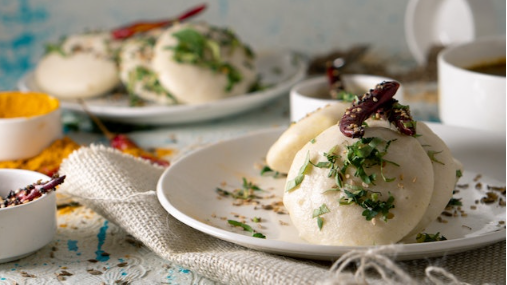 Want another one? Vada is made by shaping a batter of lentils, spices and curry leaves into a doughnut shape and deep frying it. We don't think we need to say anything more than that…
Looking to try some of these dishes, and more? Wondering where you might find a South Indian restaurant near you, in Vancouver? Look no further than Davie Dosa Company. You can find us at 1235 Davie Street, and we'd be delighted to welcome you through our doors soon!